All the great smells of food have quite often drawn us to the kitchen of a household. We all belong to the kitchen in one way or the other. Having a well-designed smart kitchen has no limits of exquisiteness. Be it a small one or spacious, we can always organize and design in our own way.
Here are 14 creative ways for you to deck the kitchen of your household:
1. RUSTIC KITCHEN STORAGE
The 'down-home country kitchen style' with the right touch of elegance can actually become a highly stylised wooden finish kitchen. The best thing about such a design is that the raw materials are easily available like Pine, Oak, Hickory etc. The door handles, knobs, pulls etc. get a wonderful finish with wood giving an antique material look. And then if you're looking for cutleries or built-in shelving for dishware, simply handpick things from flea markets and antique fairs. You'll find gorgeous pieces that will serve you as regularly as your own regulars.
2. RETRO KITCHEN CABINETS
Sleek seamless look, with minimal adornments, are available in a variety of materials. The classic style of post-war period is marked by futuristic angles and exaggerated curves of space-age design. Backsplashes and floors may display geometric patterns that offer a balance and contrast to the slender outlook. Hardware for this kind of a kitchen cabinet bears a similarly understated approach.
3. SHAKER KITCHEN CABINETS
Inspired by the religious movements in 1770's America, Shaker design is marked by simple, efficient, unfussy designs. The bare look of your kitchen with simple clear lines of white shaker cabinets blends well with bold, modern flooring. This type of cabinets is usually left with a natural finish. The advantage of choosing Shaker kitchen design is that you can incorporate both traditional and modern appliances and well as cutleries.
4. THE BLACK KITCHEN DESIGN
If you're thinking that white base is the best, time for you to hold on .. black is the new white! Black kitchen is not, however, new but definitely on the rising popularity with the new generation of householders. Black as a color itself is timeless and beautifully compliments with kitchen staples like white sinks, exposed brick walls, and wooden reclaim. You can also add up more shine or gloss to get modern. Test out the dark appearance in your kitchen with hardware, black countertop appliances, and pots and pans.
5. CRYSTAL COLOR POP
On the other side, a mix of industrial metal, vintage crystal, and pinkish and red pops of colors can be the new theme in decorating your kitchen. A pinkish tone has a glamour of its own and adds up to the vibrant look of your kitchen.
6. OUTDOOR KITCHEN CABINETS
Having an outdoor kitchen is as good as a dream coming true. It's important to plan up to the kitchen with the climate and weather in mind. The open-air space with a view is probably the one thing most of us expect. But choosing the right materials will not be easy. Stainless steel, stones, and materials, which are rain, termite, and heatproof, are essential in this case, and at the same time highly durable. Marine grade polymer and teak are good options. It may be one hell of a task to design an outdoor kitchen, but once it's done, you will have a mini food paradise of your own.
7. GLASS FRONT KITCHEN DESIGN
Clear glass fronts are the best way to design your RTA kitchen cabinet if you want to display your impressive dinner sets and other cutlery collections. The glass front also helps the kitchen to look bigger in space.
8. THE BELGIAN STYLED KITCHEN
If you're planning up for a vintage look for your kitchen, the Belgian style will also be a good option. The flooring may be of natural stones like marbles, blue stones, and terracotta tiles. These may also be used for sinks and shelves. The grisaille palette offers a subtle contrast to bright colors of the house. You may also add up mini chandeliers to add up to the look.
9. MIRROR FRONT CABINET
For the kitchens which have a very small space, especially those in the apartments, the mirrored front style is probably the best option. Antique cabinets with mirrors provide an illusion of an enlarged space saving you from a claustrophobic experience every time you step in.
10. THE SCANDINAVIAN KITCHEN STYLE
Stimulated by the Nordic winters, this design provides simplicity, efficiency, and a sense of cheerful elegance, yet a sober aristocratic finish. With a combination of various other local eccentricities across the globe, it can be a fabulous array of new decorating styles. A clean-lined, minimalistic setting embracing the popped up colors, a warmth of wood, and textural beauty – just a perfect kitchen decor! This makes the Scandinavian kitchen style a popular one for the modern kitchen.
11. THE COLOUR SPLASH CABINET
With a white base and a small space, the best thing you can come up with is a palate like a look in the kitchen that offers several vibrant colors. The color splash is all a turn-on when it comes to dull mornings and tiring days. This set of RTA cabinets is used to cheer up your mood. You can also combine matt finish and glossy alternating appliances which will bring out the different hues with equal prominence.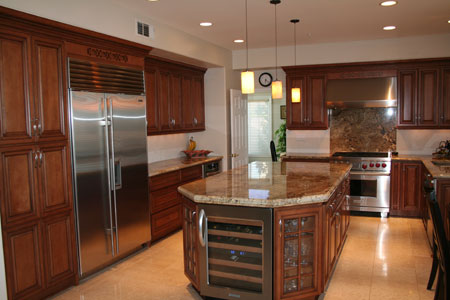 12. THE GREEN KITCHEN
In the midst of all colors, green is one option which will provide a unique touch to your house. The deep matt finish, bottle green Peckham Rye kitchen is a complete standout. It looks classy and gives an eco-friendly out the texture. To bring out the best look, you can use off-white backgrounds and bottle green matt finish cabinets.
13. THE CONTEMPORARY KITCHEN DESIGN
The contemporary modernist style is about two words: clean and sleek. You may add different designs but the one thing that a contemporary kitchen asserts is doing away with clutters. The kitchen borrows high functionality and streamlined surfaces from the modernist design movement.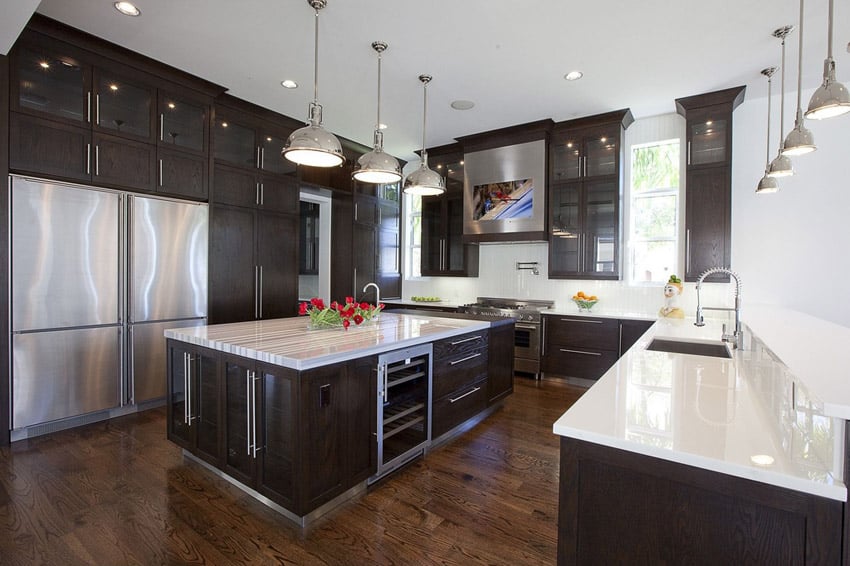 14. THE DIY KITCHEN
Last but never the least is the DIY style. This is the most pocket-friendly as well as the most creative of all. You can apply almost everything according to your own choice and bring out a kitchen with a reflection of your own touch sticking to your budget - Now nothing better than that, isn't it?