The largest organ of the human body is the skin. It is only natural to want to take the best care possible of your skin since it affects the way you look, and eventually, the way you feel. When it comes to improving your looks, the best options available are sometimes right in front of you in your kitchen and not in a pill or expensive skin cream. Nature provides us with an abundance of nutritional foods that can do wonders for your health and improve your appearance. Most of us don't realize that the best thing we could eat can be found in the kitchen or local farmers market.

Here are 7 foods that will improve your overall appearance thanks to their health benefits, making you look and feel great.

1. Avocado

Not only are these a delicious food to eat, but avocados are rich in a vitamin called biotin which helps you fight dry skin, brittle hair and nails that chip easily. An easy way to consume avocados is to mash it up and spread over toast with a light sprinkling of salt and pepper on top. This would be a delicious and nutritious breakfast option. For an instant hydration boost, puree an avocado and apply all over your face. Avocados are rich in vitamin E and will give you a wonderful glow from the inside out.



2. Green Tea

Extensive research has been done on Green tea and shows that green tea is packed full of antioxidants which help prevent diseases such as coronary artery disease and atherosclerosis. Green tea reduces cholesterol and triglyceride levels, thereby reducing the risk of heart disease. Some researchers even believe that polyphenols that are found in green tea help kill cancerous cells and may possibly stop them from growing.

Green tea will keep you looking your best because it helps with weight loss and maintaining the lost weight in people who are obese. It has also been found that Green tea helps prevent dental cavities and may fight arthritis by fighting inflammation.

As if these health benefits were not enough, Green tea can do wonders for your appearance as well. It helps to flush out toxins from your system and due to its inflammatory qualities it helps to heal blemishes and scars while also improving the skin's elasticity. With the passage of time, everyone experiences signs of aging such as sagging, age spots, fine lines, wrinkles and sun damage. Green tea fights all signs of skin aging thanks to the polyphenols that it contains which help neutralize free radicals that are the main culprit for aging of the skin.

With so many benefits, Green Tea is essentially a health freebie from nature!



3. Salmon

If you are trying to fight fine lines and wrinkles, look no further than your local fish market because Salmon is the answer to your skin problems. Salmon contains plenty of astaxanthin, a cartenoid pigment that is found in its natural form in this fish. It is a powerful antioxidant that keeps your skin looking smooth and prevents fine lines from appearing. When you prepare salmon, steaming is better than frying because less oil is used in the cooking process.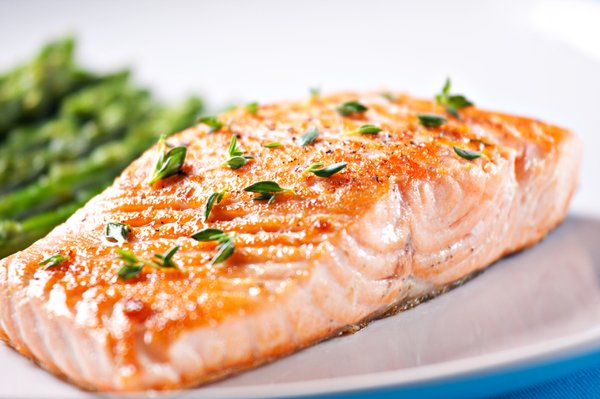 4. Eggs

Similar to Avocado, eggs also contain the vitamin Biotin which protects your skin against dryness. Eggs contain plenty of protein which helps your cells repair and heal from the damage caused by free radicals.



5. Walnuts

These nuts are a magic ingredient that you must include in your diet. They contain plenty of Omega 3-fatty acids which make your skin smoother helping you to exude a youthful glow. They also make your hair and nails shiny.

6. Tomatoes

With their high content of lycopene, tomatoes have multiple benefits. Firstly, they reduce blood pressure and increase digestion. They prevent premature aging while increasing digestion and stimulating blood circulation. To give your health a boost eat tomatoes as often as you can as they form a protective barrier against cardiovascular diseases while also reducing cholesterol. The biggest benefit for your overall appearance comes from the strong antioxidant lycopene that is present in tomatoes. Lycopene fights free radicals which cause signs of aging on your face including wrinkles and age spots.

A single tomato can provide approximately 40% of your daily Vitamin C intake which shows just how nutritious this food is. Vitamin C is a natural antioxidant that fights against cancer-causing free radicals. Tomatoes also contain plenty of Vitamin A which helps improve eyesight while preventing night blindness.

7. Almond Milk

Dairy has been shown to be highly inflammatory which means it aggravates acne, causes wrinkles and even rashes. Instead of normal milk, opt for almond milk to have with your coffee, tea or cereal.

8. Water

While this is not technically a food product, water in itself can do wonders for your skin, and your overall appearance. Not only does it keep you hydrated but by drinking water you can avoid consuming excess sugar found in fruit juices and aerated drinks. When your blood sugar is high, sugars attach to protein in collagen which leads to your body producing a compound that promotes skin sagging and wrinkles. To avoid premature aging of the skin, make sure you drink plenty of water, aiming for a minimum of 2 liters a day.



These 8 foods will not only improve your overall health but will directly improve your looks. Each of these foods will protect your body due to their high nutritional value, and benefit your overall appearance. Eating healthy is absolutely essential when aiming to look and feel great.

(Image Credits: 1, 2, 3, 4, 5, 6, 7)