One: it's a place for you to relax and unwind after a long day. Two: unlike your bedroom or kitchen, whoever comes to your house will have to go to the bathroom eventually and that's why it has to be suitable for both yours and your visitors' needs. So, if you're thinking about updating your lavatory, here's a little insight into some of the most inspiring trends at the moment.
Unusual furniture
When someone says bathroom furniture, most people think bathtub, sink, and maybe a cabinet or two to serve as storage but why not go further and include actual pieces of furniture into your little private oasis? An ottoman or a comfy chair might be a perfect addition, especially if you're bathroom is big enough, so you can have a place to brush your hair or do your nails. The bathroom is only the logical place to do such things, so why not give it a thought?
Greening things up
We all know how huge Pantone's color of the year is right now – it seems like everybody's going crazy over Greenery and similar shades, resembling the nature, springtime, and fresh starts. Well, this trend is strong in bathroom interior design as well, especially in its most literal form – by hanging actual plants on the walls. It's proven that shades of green are relaxing to the eyes while some plants, such as succulents, can serve as fantastic air purifiers, so there are literally zero reasons not to put plants in your bathroom.
Endless shower space
Putting walls on a shower might feel necessary because of the mess water puddles can make but going walls-free can be so liberating, just like taking a shower outdoors. Showers without borders are a huge trend right now and if you're worried about the mess, there are two things you can do to make it work. First, cover everything with tiles because of moisture and then make sure you mop up puddles every time you finish a shower. This can visually expand your bathroom space as well, so say no to the walls.
Minimalist balance
As for current bathroom decoration trends, it's okay for walls and floors to be patterned or crazy colored, but there has to be a balance to avoid having a messy looking bathroom. That's why interior design experts suggest going minimal on cabinets and vanities and let the minimalism bring a dash of elegance to your lavatory. So, if you have floral patterned tiles or yellow walls in your bathroom, choose from these sleek bathroom vanities and bring some balance into your powder room.
Nautical notes
For most people, taking a long bath is the closest to seaside vacation so it's completely understandable why bringing nautical details to your bathroom design is such a cool thing to do. Let your bathroom remind you of your last vacation with soft and welcoming color palette and beach-themed artwork hung on the bathroom walls. As for the colors, think all shades of blue, as well as light shades of green, and, of course, beige, creams, and white to break the monotony.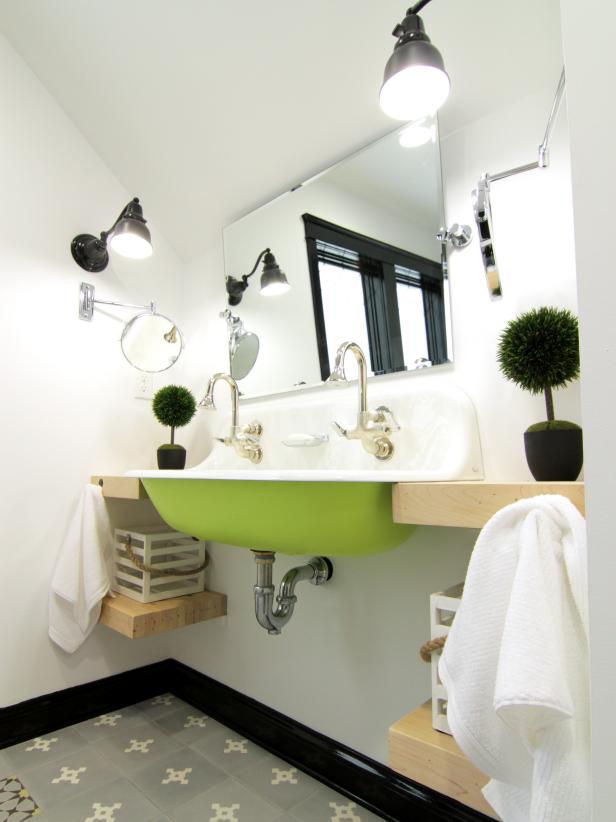 Practical storage
Finally, the most important thing in every bathroom – storage space. If you don't want your bathroom to look cluttered, a place for towels, cosmetics, and all of your knickknacks is a must. You can be smart and use those corners efficiently – have yourself made a custom corner shelves or cabinets and put your best linens to display to serve as a trendy interior style detail. If you're aiming for a more relaxed style, using old wooden ladders as a nonchalant towel rack is a great idea.
Now, go back to your bathroom and take a good look at it. Is there anything you wish to change? If the answer is yes, consider the ideas mentioned above and get to work. Soon, you'll have a bathroom of your dreams!