How to Become a House Sitter and Travel the World for Longer
The Ultimate Guide to Free Travel Accommodation – Part 2
House sitting is a great way to travel the world for longer. It gives you the opportunity to get off the tourist track, integrate into a local community and enjoy a different way of life. Thanks to house sitting, we've been living well for less in Costa Rica and had a unique chance to stay in a small barrio in the mountains.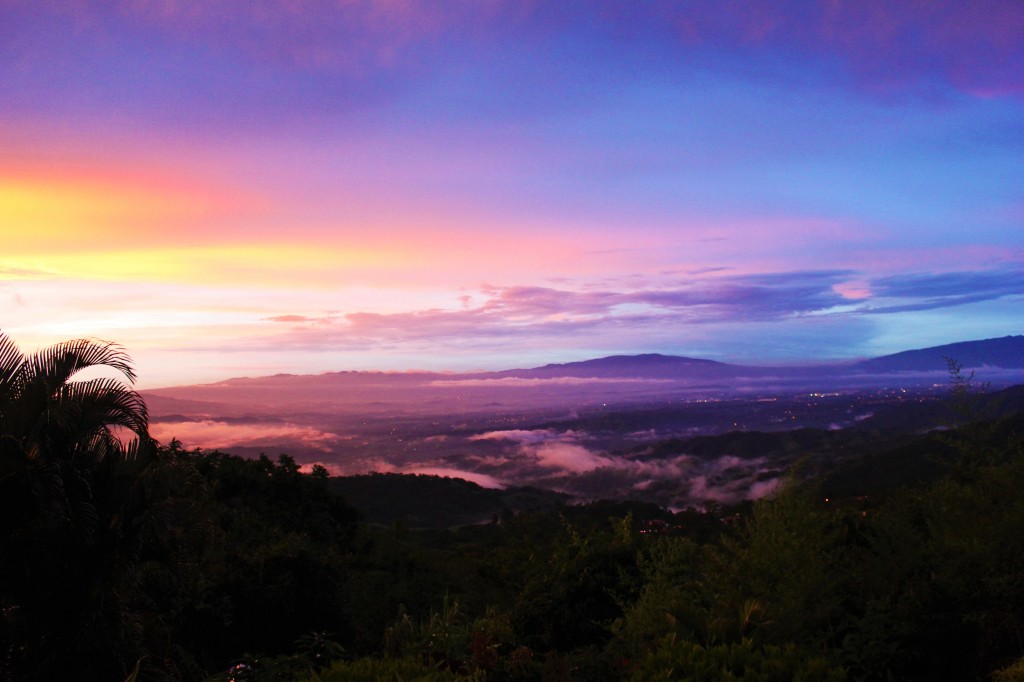 For us, house sitting is ideal. We want become long-term travellers, which means that we need to keep costs down by travelling slowly. We save up our small income for shorter adventures, but really every day feels like an adventure when you live in a new country. House sitting gives you a semi-permanent home base where you can live and work. Of course, it often comes with lovable animals and knowledgeable home owners too!
What does house sitting involve?
Before sell all your belongings and hit the road in search of houses to sit in, think about whether house sitting is really for you. Caring for someone else's home and pets is a lot of responsibility. During our first Costa Rican house sit, we were looking after eight dogs and one cat. Animals don't just need feeding twice a day, they need constant attention. We pulled ticks out of their fur, made sure they didn't lick any toads, and even rushed one dog to the vet after he was bitten on the muzzle by a venomous snake (fortunately, he lived!)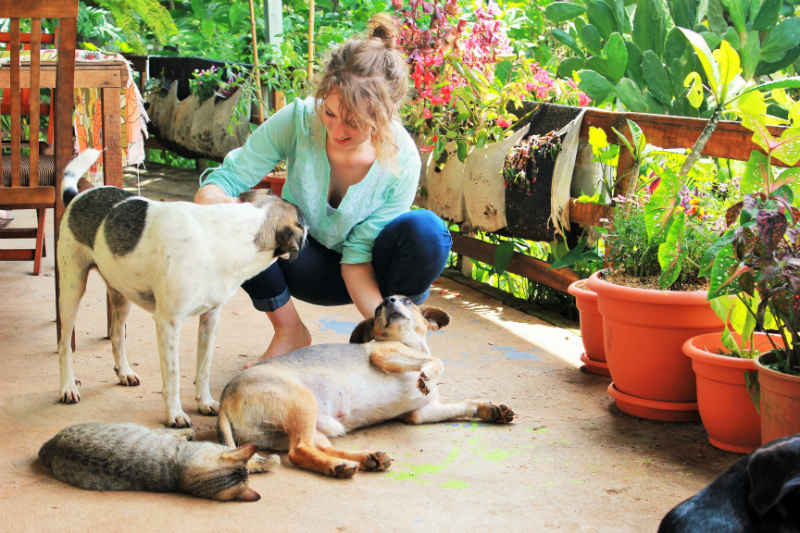 House sits are semi long-term commitments. Assignments vary in length, but are usually on the longer side, as home owners can generally find someone to watch their animals for shorter time durations. This means you may be agreeing to stay in the same area for quite a while, and if you're not as keen as you thought you would be, you can't just leave. If you are offering your services for free, it makes financial sense to choose longer assignments to cover your travel costs, though short-term ones can also be fun.
Each individual house sit will be different. Some will have pets, and some won't. Some home owners will want you to clean out the gutters, or the swimming pool, others will have a local cleaner come in. You may need to tend to a garden, or even grow vegetables. Check with the home owner about which tasks need to be done in advance and make a list so that you don't forget.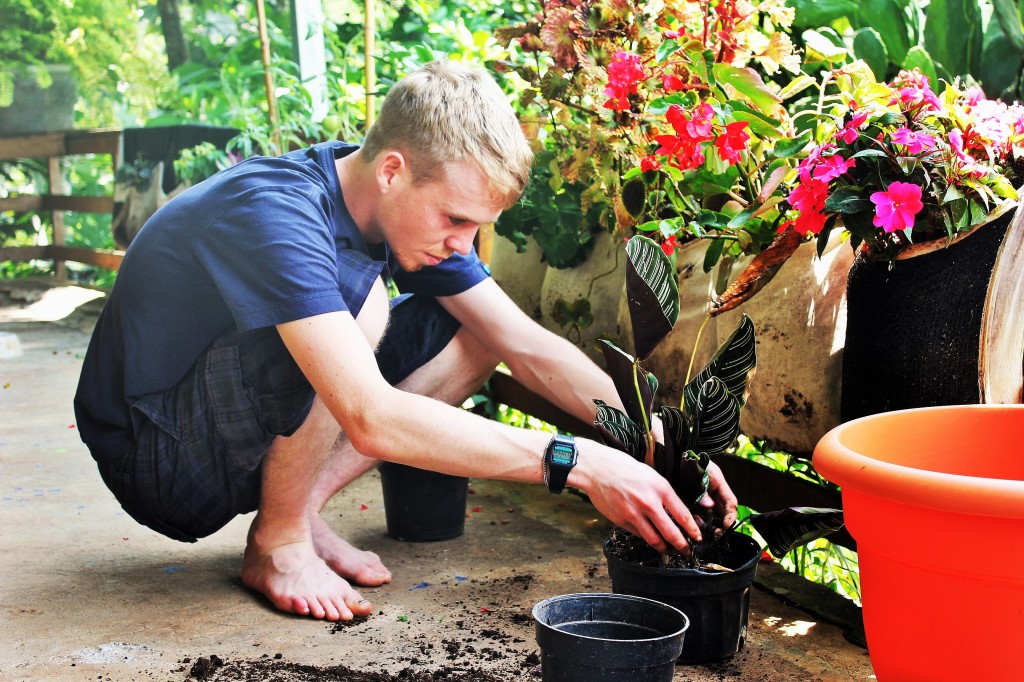 As with all things, do your research and know what you're getting yourself into before you take on any house or pet sitting work. Before you consider a house sit, it's essential to know that area that you are going to. Even more important is to know yourself – sure, the idea of living a simple life one a secluded beach front property might sound like a dream, but is it someone else's dream?
Many people find that life without a nearby bar or coffee shop, for instance, is simply not for them. Others find the inner city house that they are sitting in too noisy for their tastes. Compare your potential house sits to your previous experiences. As a couple who have backpacked, hostelled and Couchsurfed on five continents in all manner of different conditions, we had a good idea of what we could handle.
Are there any costs?
This depends very much on the house sitter and the home owner. Some home owners will ask you to cover the basic utilities, such as gas and water. Other home owners will cover all the costs for you. Some house sitters may also charge the home owner a fee for their services, and many say that you should never house sit for free.
For us, house sitting is a way to travel and save money, and we find that living rent-free in exchange for taking care of a home and pets is a fair deal. If you are asked to do a lot of additional work, then consider charging. Bear in mind that if you charge, the things expected of you will be different, and the relationship between you and the home owner will be different too. Where finances or really long-term stays are involved, it is worth considering a contract.
It's a great idea to make a list of services that you are happy to take care of on your website. When you arrive, it's better for everyone if you already to have a crystal clear arrangement, preferably in writing, with the home owner. This way everyone knows exactly what will be taken care of, and where the responsibilities of the house sitter end.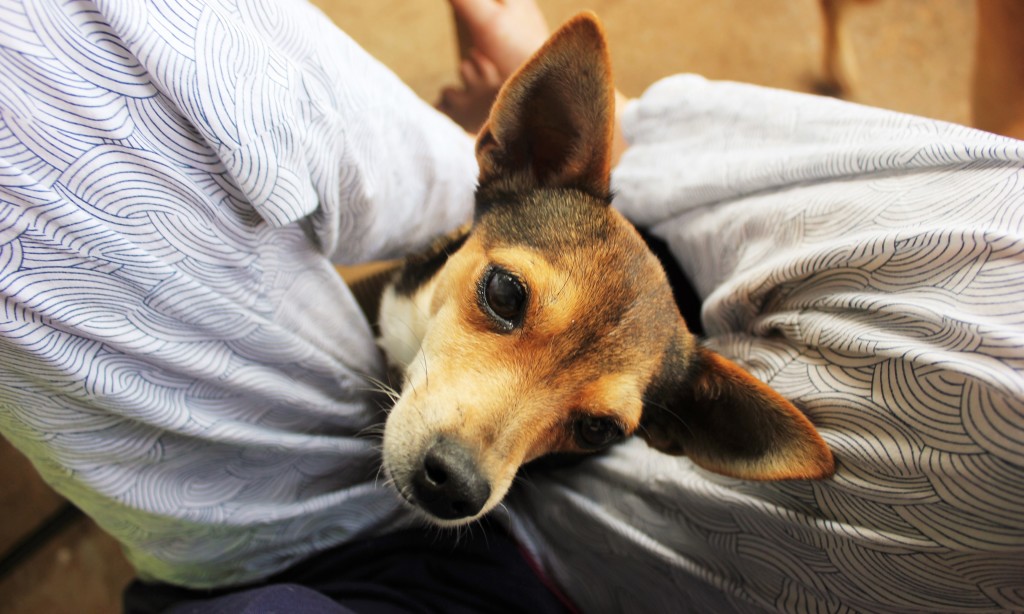 Starting Out as a House Sitter
One day I woke up and decided that Luke and I were going to be house sitters. We were completely flexible: we would go anywhere in the world when a good opportunity came up and just see how it went. After a few months, we were booking our one-way tickets to Costa Rica!
How to Find House Sitting Opportunities
There are a number of ways you can find house sitting gigs, and different things work for different people. Of course, those magic emails offering you a house sitting opportunity don't just appear in your inbox. You need to start by establishing yourself with an online presence and the correct marketing.

1. Set Up Your Own Website
Getting house sitting work hinges on home owners feeling a connection with you. No one wants a stranger looking after their home and pets, so a website or blog is a great way to introduce yourself, answer common questions which people may have about you and your service, and list your references. Use self-promotional images (me looking after a cat, me working in the garden) that paint a friendly and honest picture of yourself.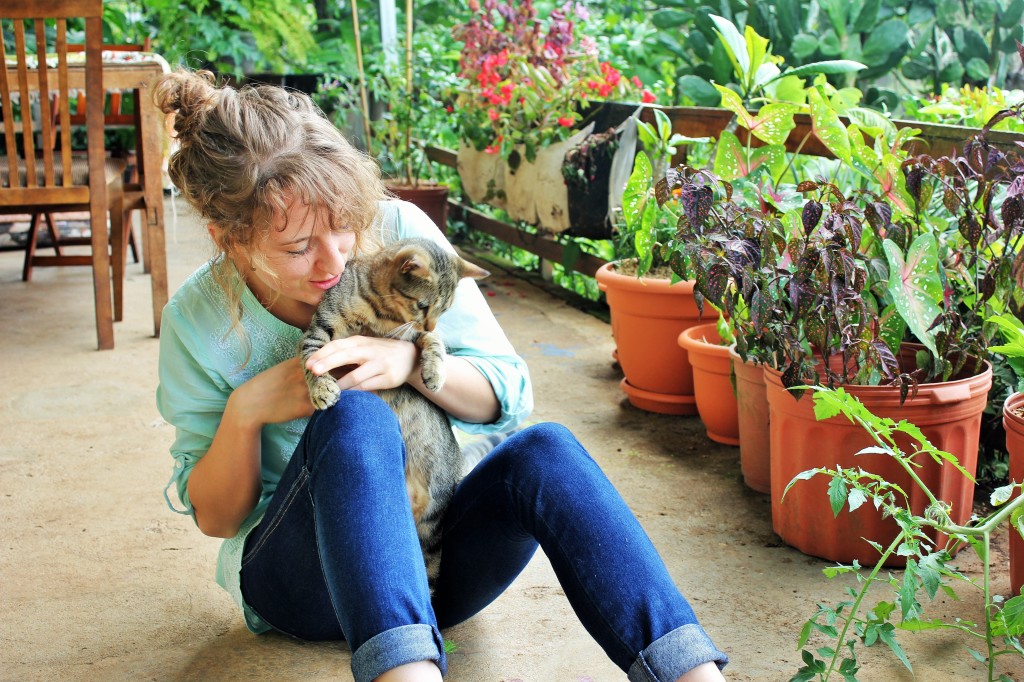 2. Join a House Sitting Website
There are quite a few house sitting websites out there. The biggest is Trusted Housesitters; our friends Casey and Dan from A Cruising Couple successfully found a sit through this website and we've heard a lot of good things about them. We opted to join Mind My House, which is slightly smaller and therefore cheaper to sign up to. We were offered a few jobs but nothing that suited us and so the investment didn't really pay off.
3. Advertise (on free sites!)
Our first big house sitting opportunity in Costa Rica came through Craigslist. We posted a short ad in the county's classifieds under 'services' with a few photos and a link to our webpage. We exchanged emails and after a successful skype interview, we agreed to fly out to San Jose a few months later. Since then, we've had a trickle of enquiries from our Craigslist ads. Remember to also look through the listings yourself as home owners will post ads too. Look up other free websites to advertise on in your area and check if local online newspapers have an ad section too.
4. Create a Facebook Page
Having a Facebook page that people can engage with is a really great way to promote yourself. Post video clips and photos from your house sits as you go, write statuses to let people know what you're doing and ask questions to start conversations.
5. Join Expat Facebook Groups
In Central America, there are a lot of expats who are looking for house sitters whilst they're away. Joining the expat Facebook groups for specific areas, introducing yourself, and providing a link to your website are all great ways to directly contact your target audience. Even if no one in the group needs a house sitter, they might pass on the message to their expat friends in the area. We found our second house sit in Costa Rica this way.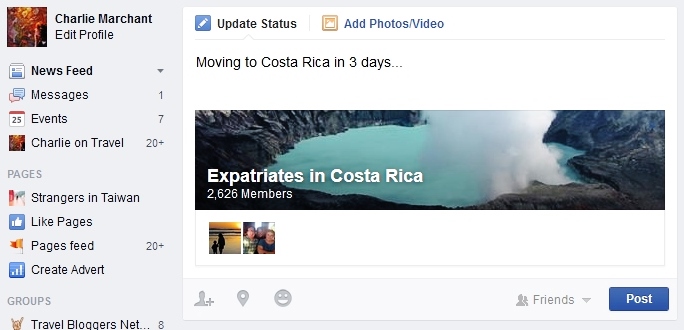 6. Ask Locals
If you're already in the area where you want to house sit, word of mouth is sometimes all you need to find a good opportunity. Leave a flyer or business card in local cafes and bars. If you've already been house sitting in the area, ask the home owners who worked for if they have friends who need house sitters. In countries like Costa Rica, house sitting is popular as many US expats regularly return home for holidays.
7. References
You can do all of the above things and have no success if you don't have some good references. It's really important to show that you are reliable and trustworthy, so work on getting testimonials for your webpage. If you're new to house sitting, help out your friends and family and ask them to write a couple of sentences for you. A police check is also preferred by some home owners. This can usually be organised online, but there is often a fee to pay.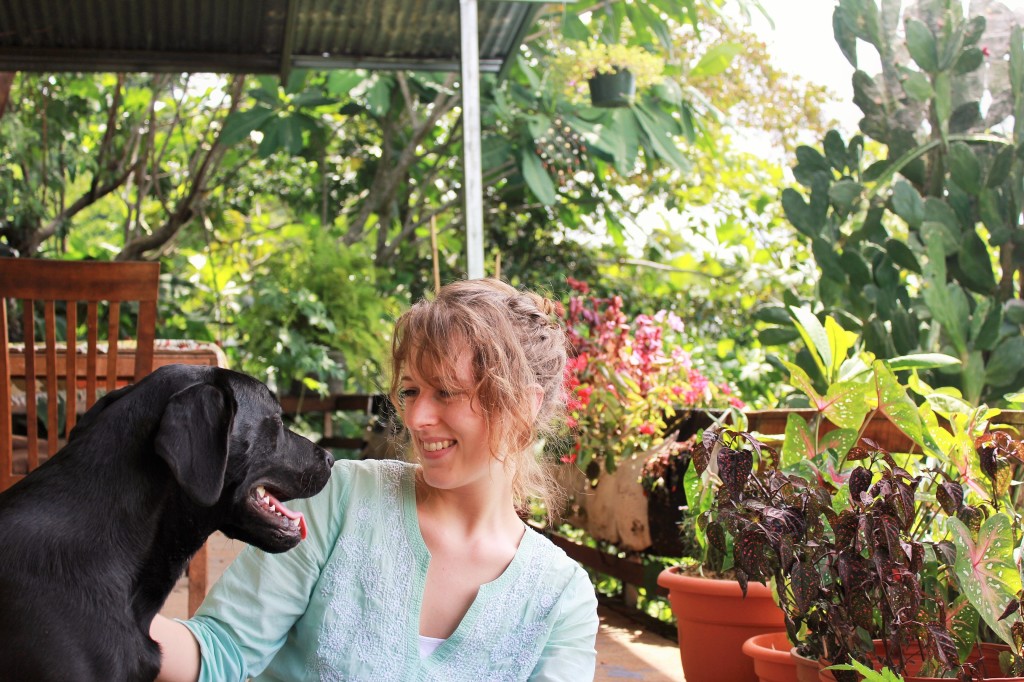 8. Be Flexible
Being flexible is essential if you want to find house sitting work. House sits may not come up in the exact area you're hoping for, sometimes there won't be fluffy kittens, and the dates might not match up exactly. Don't write house sits off straight away – discuss with the home owner and see if there is some wriggle room to make a house sit work for both of you. It's also worth noting that house sitters are in more demand in some countries than others. Costa Rica has a high density of expats that need to leave every 3 months for VISA reasons so house sitters are in high demand here.
So now you know how to become a house sitter…
But now you're wondering if this is as good as it gets? House sitting is awesome, but what's also awesome are free complimentary stays! If you're a travel blogger thinking of asking for a free night's accommodation, part three of my Ultimate Guide to Free Travel Accommodation is on it's way.
Angela has been traveling the world for the past 40 years. Her career in International Marketing took her across Canada and the US and since the mid 80s has lived in Italy, N. Africa, India, Singapore and other parts of SE Asia with husband John, a Petroleum Engineer, now retired. Self-professed nomads with a shared passion for travel and animals, they continue to travel the world having adopted an affordable travel lifestyle: Pet and house sitting. Some five continents, many amazing homes and wonderful four legged friends later, Angela is the resident in-house expert, advising home owners and house sitters at Trusted House Sitters and a regular contributor to travel blogs sharing experiences of life away from the travel brochures, living like the locals. You can read more at www.housesittingperfected.com.