Making the wrong choice could end up being quite disastrous. In the list below, we have outlined just some of the alloys available and the sorts of applications they are best suited to in hopes that the information will help you to reach a final decision.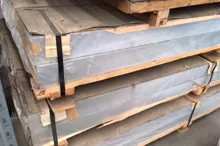 Some of the more popular aluminium alloys that your application might demand include:
This non-heat treatable alloy is most commonly used in heat transfer applications, such as those in the automotive, HVACR and electrical industries to name a few. It has good corrosion resistance and higher thermal conductivity than other varieties.
These non-heat treatable alloys also have good corrosion resistance, as well as good workability and weldability. They develop strengthening from cold working, which makes them suited for use in the automotive and HVACR industries (car radiators and air conditioning evaporators).
This aluminium alloy is far easier to weld than 6xxx-series ones, and it is also more predictable in terms of its post-weld strength. It has excellent corrosion resistance in salt water environments, which means it is highly suited for use in marine hull structures.
This alloy is frequently used in applications that require the highest quality in finishes and where strength is not necessarily the most important factor. Some of these applications include the construction of picture frames and exclusive furniture.
A magnesium and silicon alloy, this variety is the best choice when it comes to welding or brazing. It offers structural strength and toughness, good corrosion resistance and good machining characteristics. It is used extensively in construction (aircraft, marine and automotive).
This alloy falls into the heat treatable category. It has a finer grain structure than its 6061 counterpart and will provide the best cosmetic appearance once anodising is complete. It has excellent corrosion resistance, good workability as well as good weldability.
This aluminium alloy is not suitable for decorative anodising, but it is an excellent choice for the manufacture of high strength building and structural components. Common applications for this variety include trailer profiles for trucks, as well as floors.
This alloy has been specifically tailored to meet the high strength needs of the automotive industry. It is used in a number of applications, including: bumper systems, crash management systems and side sills. Although 7xxx series would typically be used, it is more expensive and harder to extrude.
This alloy offers high strength and good fatigue strength, but has limited extrudability and formability. It is susceptible to stress corrosion in high stress areas. Common applications include structures for building and transport applications where high strength is required.
We hope that the information provided above has given you a much better idea of which aluminium alloy will best meet the needs of your application. At the end of the day, it's important to remember that there is more than one variety available and that they are not all created the same – you must carefully consider the composition of each alloy to determine whether it will meet the demands of your application or not. Do not hesitate to seek assistance if required.